Kid's Spaces Made Easy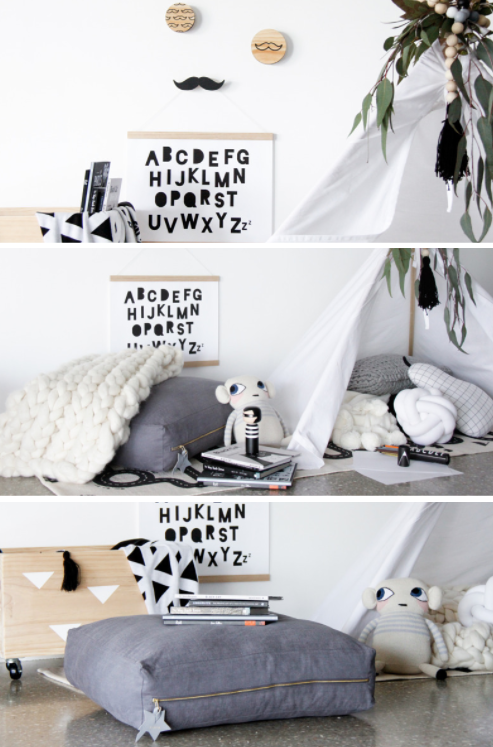 This week I've been working on creating a little kid friendly play area in my living room. Whilst their bedrooms are magical spaces, it's hard to keep an eye on them and I wanted somewhere they could play safely whilst still having adult supervision. Keeping in line with my love of a monochrome, Scandinavian style theme, I've collected some beautiful handmade pieces and whipped up a beautiful temporary space for my little ones, that gets the big tick of approval from them!
I've used a this beautiful teepee from Fox and Wilder; with a gender neutral colour of white, it made it whimsical and fun with some gum leaves from the garden. Lots of blankets and cushions have made it a warm and inviting space to read or draw. The square box cushion is from Little Connoisseur and is personalised with my son's name. Gracie is lucky enough to have one also and they are the most beautiful baby shower or 1st birthday gift!
 With any kids' space, it's important to ensure there is plenty of activities to keep them occupied and drawn to the area. Keep as many toys as possible, without overcrowding or over-stimulating. I'm a sucker for colour coordination and I love wooden toys!  I've popped lots of books and soft toys in there, along with our standard Star wars and lego - you can't see these, they didn't fit in with my theme so I stuffed them in the toy box (as you do). A full list of brands can be found below.
Enjoy,
C.x
Knot Cushion - Out with Audrey (www.outwithaudrey.com.au)
Box Floor Cushion - Little Connoisseur (www.littleconnoisseur.bigcartel.com)
Toybox and Teepee - Fox and Wilder (www.foxandwilder.bigcartel.com)
Timber Hooks - Timber & Co (www.timberandco.com.au)
Timber Beaded Garland - Grimesy & Rat (www.etsy.com/shop/GrimesyandRat)
Print - Yorkelee Prints (www.yorkelee.com.au)
Timber Print Hanger - Interior Motives (www.interiormotivesaus.com.au)
Pear Grid Cushion - Inkibabinki (www.inkibabinki.bigcartel.com)
Woollen Throw - Woollen Collective (www.woollencollective.com)
LuckyBoy Sunday 'Mause' Doll - Yellow Dandy Shop (www.yellowdandy.com.au)
---