The Perfect Tone of Blonde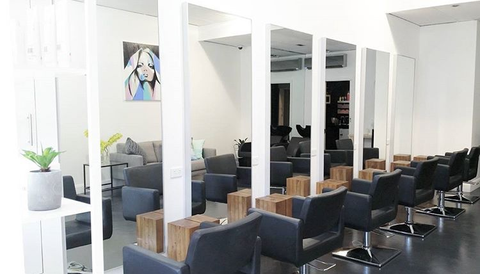 Hi guys!
This week I'm going to talk HAIR! In particular blonde, and how to achieve the perfect, cool blonde locks, with the help of my god-send of a hair stylist – Taliya from Harper Hair & Tan Subiaco.
Ok, so, I don't know about you but to me, my hair is my thing. Some girls favour their brows, or their nails or hell, go all out and love the botox, but for me, it's the hair. I've had a few hairstylists over the years, you kind of wander around life aimlessly in search of that person who can some how master the shit out of you hair and just know exactly what to do without really having to say much. Well, I found mine, and she's been nailing it for me for a little over a year now and I couldn't be HAPP-I-ER!
I always get compliments on the colour of my hair and that definitely means a lot considering most days I rock around with it in a topknot, sometimes brushed buuuut not much (kids, dude – who has the time for that?)
If people can see past the birdsnest and appreciate the most perfect shade of cool, creamy blonde then I'm one happy camper! I'll run you through, step by step, the products and method Tals uses to get the most perfect shade of blonde – and some seriously rockin waves!
Wella Blondor for colour. I like close, fine foils for a natural look and alternate between half a head and a full head every five weeks. My hair grows super fast so I opt for 5, but you could definitely get away with every 6 weeks. The Olaplex No.1 is mixed into the colour to kick start the bond multiplying process and work to strengthen every strand (more on this in a minute). 
Tone it baby! I HATE anything brassy or golden so T tones with Wella Colour Touch to bring out that beautiful cool shade of blonde that I love.
Ahhhh the secret ingredient – Olaplex baby! Olaplex is designed to stop breakage in chemically treated hair. Step 2 is popped on after the tone and works to repair hair from within by strengthening, repairing and multiplying the bonds in your hair. I also use the take home step 3 once a week to maintain strength and healthiness. I have been dying my strands for over 15 years now and I can honestly say, it's never been healthier! P.S Kim Kardashian uses it so it must be good right? 
Pop some Wella Luxe Oil through the ends for instant shine and smoothness. We then use EVO Root Canal for extra oomph at the crown – mist it on the roots of hair at the top of your head for extra shape and volume and then blow-dry with a round brush. Voila!
Taliya and the girls at Harper's only use Cloud Nine Irons for the perfect waves. They have temperature control which can be adjusted for hair thickness (so you don't burn the bazookas out of your locks) and the technology of the plates gives the perfect waves every damn time!
You can purchase these in any Cloud Nine Salon or via the link below:
So there you have it – my complete guide to creating the perfect blonde waves! Below are my 'take home' products that I use between visits to maintain the health and colour of my hair as well as keep my tresses looking totally Bingle Bob on my (not so frequent) nights out on da town! These can also be purchased from Harper Hair.
*EVO Ritual Salvation Care Shampoo.
*EVO Mane Attention Protein Treatment (as I only wash and and thermal dry my hair twice a week, I use the protein treatment instead of the conditioner for extra moisturizing)
*Olaplex Hair Perfector – Step 3, once a week. This is the last step in the Olaplex system and works to maintain the strength of the hair between salon visits.
*Wella Luxe Oil before blow-drying.
If you have any questions on this perfect shade of blonde, feel free to ask, and if your a Perth local do make sure you hit up Taliya and the girls at Harper Hair!
Much love,
C.x
---
1 comment